Supply
LEQEMBI® injection is a preservative-free, sterile, clear to opalescent, and colorless to pale yellow solution. LEQEMBI is supplied in single-dose vials per carton as follows1:
Single-dose vial with dark grey flip cap NDC 62856-212-01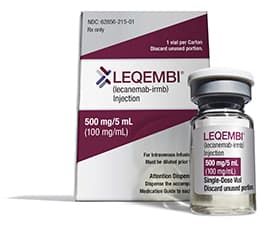 Single-dose vial with white flip cap NDC 62856-215-01
To reorder LEQEMBI, contact your specialty distributor
This guide lists the specialty distributors that stock LEQEMBI

Unopened vial
Store in refrigerator at 2°C to 8°C (36°F to 46°F)

Store in the original carton to protect from light

Do not freeze or shake

Diluted solution
After dilution, immediate use is recommended

If not administered immediately, store LEQEMBI refrigerated at 2°C to 8°C (36°F to 46°F) for up to 4 hours, or at room temperature up to 30°C (86°F) for up to 4 hours. Do not freeze
Use in specific populations1

There are no adequate data on LEQEMBI use in pregnant women, women who are breastfeeding, or pediatric patients.

For the geriatric population, in Study 1 and Study 2, the age of patients exposed to LEQEMBI 10 mg/kg every 2 weeks ranged from 50 to 90 years, with a mean age of 72 years; 81% were 65 years and older, and 39% were 75 years and older. No overall differences in safety or effectiveness of LEQEMBI have been observed between patients 65 years of age and older and younger adult patients.